If law firms had a business development toolkit, cross-selling would be one of the main tools.
Whilst cross-selling may come with its challenges, if law firms are able to overcome those challenges it can be a very effective method to generate new business. It is crucial for law firms to manage their cross-selling initiatives, therefore, in this blog we are going to speak about:
1 – What is a cross-selling initiative?
2 – Why should law firms engage in cross-selling?
3 – How can Nexl help your law firm manage and run your cross-selling initiatives?
What is a cross-selling initiative?
In common practice, cross-selling is understood as effectively communicating your service offering and seizing the momentum of an ongoing business relationship to pitch those additional services. However, after working with many firms, what we've found is that effective cross-selling (or cross-serving as we like to say it) is most effective when you've built trust and understand your client's needs.
Unfortunately, too many law firms just aren't getting this right! Far too often, we see lawyers mistakenly try to execute a cross-selling strategy based on perceived gaps in their billing rather than on their clients' real needs. That's law firm centricity – not client centricity. If law firms want to see increased revenues and client loyalty, they need to work backwards from their client's needs and get multiple practice areas involved early in the process to build trust in those other service areas.
Why should law firms engage in cross-selling?
Cross-selling is worth figuring out the complications that come with it because of the many benefits that are linked to an effective cross-selling initiative. Heidi Gartner's academic book, Smart Collaboration suggests that revenues, profitability, client loyalty, and access to high-value projects increases exponentially when multiple practice areas are involved thus proving the gravity of an effective cross-selling initiative.
The purpose of having a cross-selling initiative is to increase opportunities for clients via cross-practice collaboration which increases the value and margin of the overall service-offering. Through doing this, law firms will enhance client loyalty and experience which leads to them gaining access to more strategic and complex work. Existing clients will be anchored to the firm by multiplying the number of touchpoints and relationships plus the law firm will generate a deeper understanding of all their clients.
How can Nexl help your law firm manage and run your cross-selling initiatives?
Nexl was designed to run cross-selling projects. Here's how, if we investigate cross-selling, it all started with understanding who you know within a given client list. That means creating a list of current priority clients you want to select for your cross-selling project and then working towards meetings that will allow you to expand relationships, make introductions, and demonstrate how your law firm can add value beyond the current service offering. Therefore, building trust early in your other practice areas.
Sounds tough, right? Thankfully, Nexl allows you to manage your cross-selling project all in one place.
Here's how law firms can run their Cross-Selling Initiatives on Nexl:
Step 1: Name Your Project & Link it to MS Teams
Your cross-selling initiative can be managed as a Project on Nexl, here you are able to name, describe, and link your project to Microsoft Teams for seamless integration.
Step 2: Build your Practice Group Business Development Team
Next, you are able to assign the project a team thereby creating ownership and collaboration in the execution of your practice group business development plan.
Step 3: Set SMART Objectives & Actionable Tasks
Another important function for any project is setting the SMART objectives necessary to keep your team on track and focused which can be done via Nexl's Objectives module. Thereafter, each objective can be assigned actionable tasks which are given their own individual owner to ensure transparency and accountability.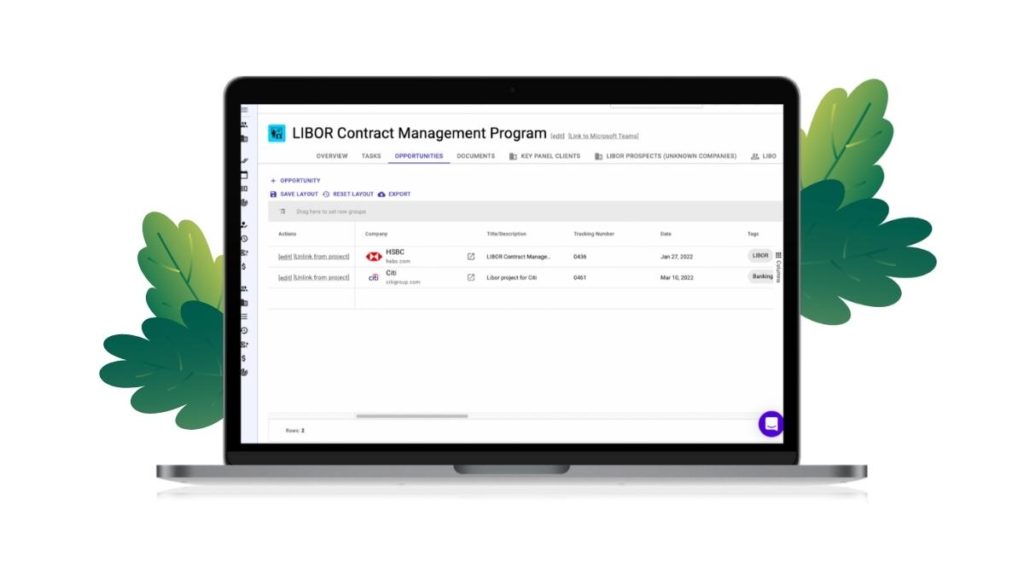 Step 4: Track Opportunities that Result from the Initiative
A "whitespace" analysis can be converted into potential opportunities which can be tracked from within the project. All opportunities created in the project are automatically added to the individual's Opportunity Tracker and to the firmwide list of opportunities which will show on the respective company records.
Step 5: Manage your Inbound & Outbound Client Lists for your Cross-Selling Initiative
Nexl offers a powerful feature of creating all kinds of lists on your project such as Company Lists, and Contact Lists. For a cross-selling project you can create an outbound and inbound client list for the core practice areas.
Step 5: Grow Your Revenues
On top of all these incredible functions, Nexl offers the added benefit of having access to data and functionalities such as Opportunity Tracking right from within your Outlook. Essentially, this means that your law firm can grow your revenues from the comfort of your own couch.
If you would like to know more about how Cross-Selling Initiatives work and how Nexl can run them for you, click here to read the Project Use Case and get in touch for your demo.