Nexl Email Marketing System
Email marketing. Simpler, easier, and more effective.
Reach The Right People. With The Right Content.
Unleash the power of targeted emails with a suite tailored to law firm marketing.


Drag and Drop Email Builder
Craft your messages with ease. No coding, no fuss.
Unlimited Email Templates
Choose from an array of designs, ensuring each campaign stands out.
Marketing Analytics
Track your campaign's performance with precision, making informed decisions for future outreach
Collaborative List Builder
Collaborate efficiently. Plan events and campaigns in unified workspaces.
Event Workspaces
Organize and execute your law events seamlessly, all in one place.
Campaign Workspaces
Bring your team together, ensuring everyone's on the same page for each campaign.
Marketing Compliance & Preferences
Stay compliant effortlessly. Understand and respect your contacts' preferences.
Built-In Marketing Preference Management
Navigate the complexities of marketing preferences with a tool designed for clarity and simplicity.
Easy Consent Management
Ensure GDPR and other regulations are met with our streamlined consent tools.
Marketing Preference Forms
Give your contacts the power to choose, enhancing trust and engagement.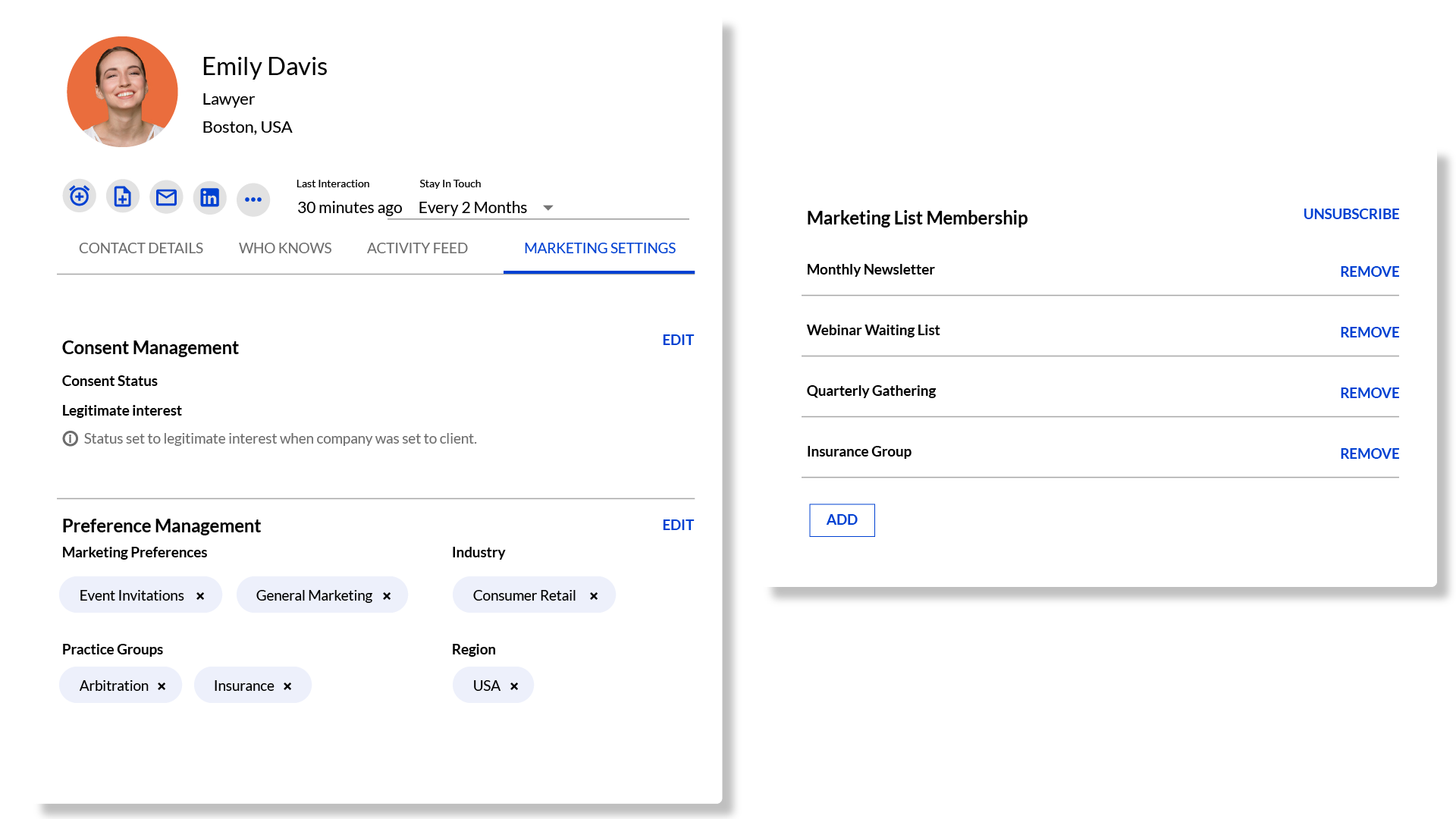 Simplify your event logistics. Make every event a success.


RSVP Forms
Easily manage attendees and gauge interest.
On-site QR Code Event Check-ins
Speed up the check-in process, making a great first impression.
Content & Lead Management
Maximize your content's impact. Nurture leads effectively.
Content Download Forms
Share valuable insights, white papers, and more, while tracking engagement.
Lead Activities and Management
Understand your leads, their behaviors, and tailor your approach.
Data Enrichment
Dive deeper into your contacts, ensuring your outreach is always relevant.
Bounce Email Tracking
Maintain a clean and effective email list, ensuring your messages always land.
Real Results, Real Satisfaction
"As a recently founded firm, Moira Mukuka is focused on innovative ways to grow our client base and strengthen relationships with our partners from around the world. In Nexl we found the efficiency and flexibility we carry in our culture and approach to client work. The Nexl CRM solution is an integral part of our growth strategy and we are really excited to work with the Nexl team on making it a success."
"We are excited to partner with Nexl to enhance our internal collaboration and streamline our business development processes. Nexl's project module will help us better plan and execute key initiatives, and their CRM platform will enable us to manage client relationships more effectively. We believe that this partnership will have a significant impact on our business and are looking forward to working with Nexl to achieve our goals."
"Maintaining engagement with clients and referrers requires a process and structure to ensure that contact is regular and value-adding. Done well, this is extremely time intensive. Lawyers like myself and other professionals who are heavily involved in the day-to-day work on matters simply do not have the time to do that." That's where Nexl comes in! It saves a massive amount of time, and it really helps maximise your ability to stay on top of client and referrer engagement which should result in an excellent ROI!
Frequently Asked Questions
Nexl's EMS is crafted with the unique challenges and requirements of law firms in mind, from compliance to event management.
Absolutely! Nexl's EMS supports smooth integrations to ensure you retain all valuable data and contacts.
Better Email Marketing is Here
Experience the difference with Nexl's EMS.
Nexl's 2023 Law Firm Growth Strategy Report
Relationships are the lifeblood of the legal world. That's why we conducted a comprehensive survey. The report dives into the growth strategies employed by law firms and the challenges they face.
Explore More: Your Law Firm, Empowered.
Explore our range of product bundles designed to elevate every team in your law Firm .
More than 10,000 Lawyers trust Nexl