Boutique Mexico City law firm leverages Nexl's no-data entry CRM to streamline business development and provide outstanding client experience
Blanco Carrillo is a boutique law firm founded in 2012 with the purpose of meeting the increasing demand for expert and professional legal advice in the world of business in Mexico. Its main goal is to add value to their clients with a comprehensive understanding of their needs, objectives and challenges; providing efficient legal strategies and tailor-made solutions in several areas of practice such as mergers and acquisitions, finance, real estate, corporate and legal management. They are also the first law firm in Mexico to be a Certified B Corporation®, achieving the highest standards of verified social and environmental performance, public transparency and corporate responsibility.
Blanco Carrillo will use Nexl's platform to streamline its business development activities, create projects to work collaboratively, and provide outstanding client experience. More, Nexl's library of law firm growth templates will also help Blanco Carrillo launch their business development activities quicker using pre-built templates for key client development, personal business plans, and more.
"We are excited to be working with Nexl and to have chosen the platform to help us improve our customer relationship cycle with a series of activities that runs from the initial segmenting and targeting of clients all the way through to timely follow up."

– Diego Blanco, Partner at Blanco Carrillo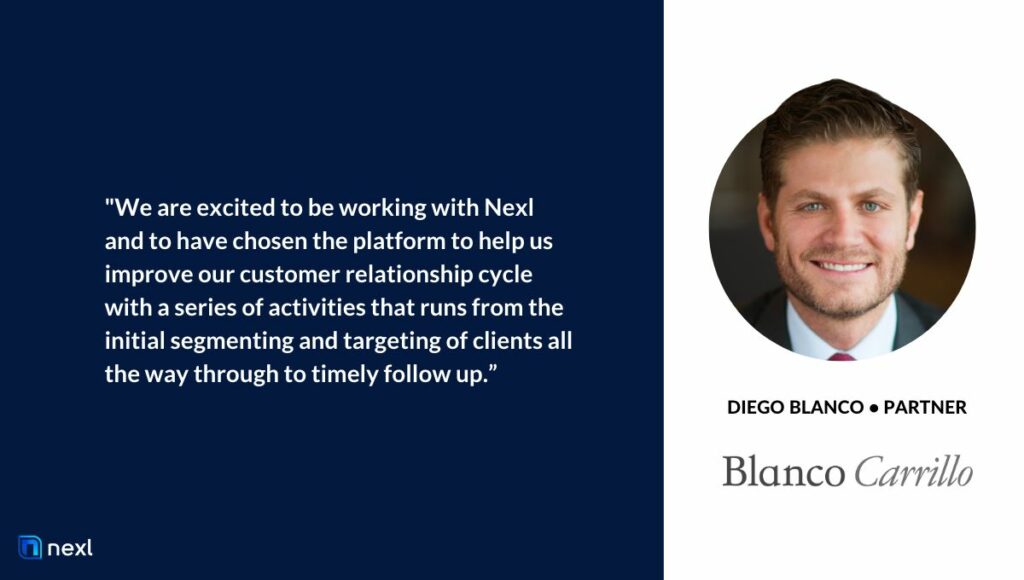 With Nexl's platform, Blanco Carrillo will be able to reliably capture its entire client data base enabling it to better track relationships, improve project management, and identify new business opportunities.
"I am so happy to be working with Blanco Carrillo This is a successful law firm that is truly committed to contribute to the economic and social progress of Mexico, which makes it not only a firm that generates a significant impact with Corporate Social Responsibility in the field of law but also at an environmental and personal level in the country. Therefore, we are very pleased to help the firm to continue delivering quality services, as well as to create plans and strategies for sustained growth to continue offering efficient and personalized solutions."

– Laura Beltran, LATAM Sales Executive at Nexl
By leveraging Nexl's platform, the firm will be able to increase productivity and collaboration while providing exceptional service to its clients. Blanco Carrillo is an addition to the other law firms in Mexico, who have chosen Nexl to help them streamline their business development and project management processes.
At Nexl, we're excited to continue to support law firms with their business growth and turn more relationships into revenue. If you're interested in learning more about the Nexl CRM or Nexl's Revenue Operations Cloud, please reach out and schedule a demo.
*See Announcement in Spanish Below*
*Ver anuncio en español a continuación*
---
Blanco Carrillo, S.C. se asocia con Nexl para digitalizar procesos y aumentar el crecimiento
Boutique de abogados de la Ciudad de México aprovecha el CRM de Nexl sin necesidad de ingresar datos para agilizar el desarrollo empresarial y brindar una experiencia excepcional al cliente
Blanco Carrillo es una boutique de abogados fundada en 2012 con el propósito de satisfacer la creciente demanda de asesoramiento legal experto y profesional en el mundo empresarial en México. Su objetivo principal es agregar valor a sus clientes con una comprensión integral de sus necesidades, objetivos y desafíos; proporcionando estrategias legales eficientes y soluciones a medida en diversas áreas de práctica, como fusiones y adquisiciones, finanzas, bienes raíces, corporativo y gestión legal. También son la primera firma de abogados en México en ser una B Corporation® certificada, logrando los más altos estándares de rendimiento social y ambiental verificado, transparencia pública y responsabilidad corporativa.
Blanco Carrillo utilizará la plataforma de Nexl para agilizar sus actividades de desarrollo empresarial, crear proyectos para trabajar de manera colaborativa y brindar una experiencia excepcional al cliente. Además, la biblioteca de plantillas de crecimiento de firmas de abogados de Nexl también ayudará a Blanco Carrillo a lanzar sus actividades de desarrollo empresarial de manera más rápida utilizando plantillas predefinidas para el desarrollo de clientes clave, planes de negocio personales y más.
"Estamos emocionados de trabajar con Nexl y de haber elegido la plataforma para ayudarnos a mejorar nuestro ciclo de relaciones con los clientes con una serie de actividades que van desde la segmentación inicial y la selección de clientes hasta un seguimiento oportuno."

– Diego Blanco, socio de Blanco Carrillo
Con la plataforma de Nexl, Blanco Carrillo podrá capturar de manera confiable toda su base de datos de clientes, lo que le permitirá realizar un mejor seguimiento de las relaciones, mejorar la gestión de proyectos e identificar nuevas oportunidades comerciales.
"Estoy muy feliz de trabajar con Blanco Carrillo. Esta es una firma de abogados exitosa que está verdaderamente comprometida a contribuir al progreso económico y social de México, lo que la convierte no solo en una firma que genera un impacto significativo con la Responsabilidad Social Corporativa en el ámbito legal, sino también a nivel ambiental y personal en el país. Por lo tanto, estamos muy complacidos de ayudar a la firma a continuar brindando servicios de calidad, así como a crear planes y estrategias para un crecimiento sostenido y seguir ofreciendo soluciones eficientes y personalizadas."

– Laura Beltrán, Ejecutiva de Ventas de LATAM en Nexl
Al aprovechar la plataforma de Nexl, la firma podrá aumentar la productividad y la colaboración al tiempo que brinda un servicio excepcional a sus clientes. Blanco Carrillo se suma a otras firmas de abogados en México que han elegido a Nexl para ayudarles a agilizar sus procesos de desarrollo empresarial y gestión de proyectos.
En Nexl, nos entusiasma seguir apoyando a las firmas de abogados en su crecimiento empresarial y convertir más relaciones en ingresos. Si estás interesado en obtener más información sobre el CRM de Nexl o la plataforma de Revenue Operations Cloud de Nexl, por favor contáctanos y programa una demostración.