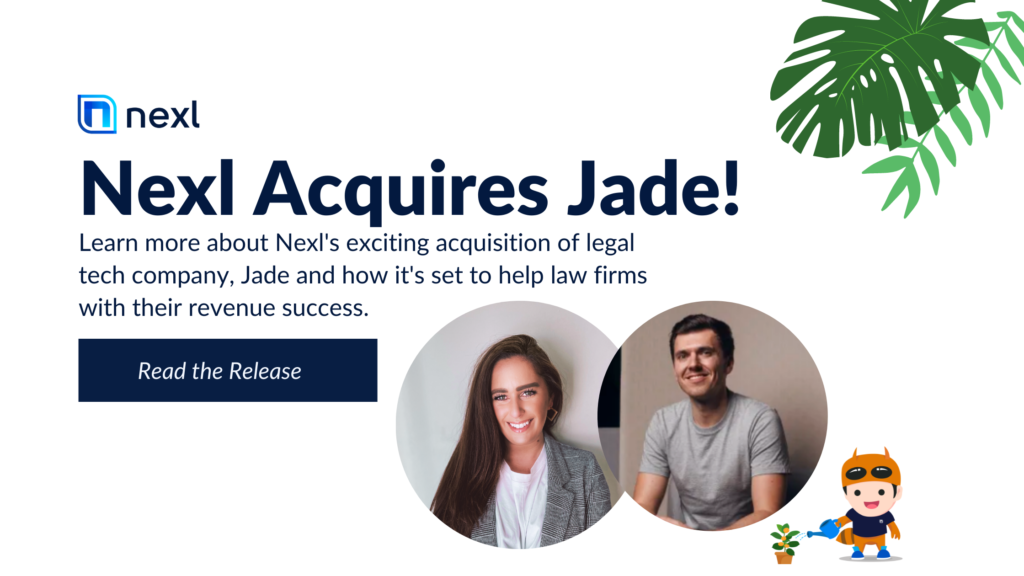 Monday, March 7, 2022 – Chicago, IL | Mexico City, Mexico | London, UK | Sydney, NSW, Australia.
It is our distinct pleasure to announce that Nexl has acquired legal tech company Jade, the ground-breaking Customer Success Platform for Legal Tech, together with Gillian Fishman, Founder/CEO of Jade, joining Nexl as the company's new Product Success leader.
Focused on helping law firms reach their business development goals in an ever competitive legal world, Nexl acquired Jade understanding that modern lawyers and law firms need an on-demand, targeted, and personalized in-app training experience that fits their busy modern and, increasingly hybrid, work environments; Jade's customer success technology fit that vision (and Nexl's no-data-entry CRM) perfectly.
More, with the acquisition of Jade, Nexl will also welcome Gillian Fishman to the Nexl team. Gillian is a former lawyer-turned-Legal Tech Entrepreneur, who set out to help lawyers love their legal tech and built Jade with that explicit vision in mind.
I'm absolutely thrilled to be joining the team at Nexl. The inspiration for Jade actually came from the frustration I experienced as a lawyer trying to learn a new CRM platform—bringing Jade's technology to a company in the same space that is so clearly committed to Customer Success feels like the perfect beginning to the next chapter."
Gillian Fishman, CEO/Founder of Jade.
"We could not be more excited. With the acquisition of Jade and Gillian joining the team, our Nexl customer base will now see an even more customized, industry-specific on-boarding product experience into the Nexl products, leading to faster time-to-value and reduced training, all built and led by a visionary Legal Tech product success leader in Gillian Fishman".

Phil Thurner, CEO/Founder of NEXL
Gillian and Jade are joining Nexl at a crucial growth period. Over the last three quarters, Nexl has signed-up over 70+ law firms, hired and opened offices across 6 continents, received major law firm investment, while on-boarding thousands of lawyers to the Nexl's no-data-entry, next generation CRM. Gillian and Jade represents a focused next step in Nexl's continued up-ward growth trajectory.
NEXL is excited to continue to support law firms with their revenue growth and turn more relationships into revenue. If you are interested in learning more about the Nexl CRM, we are more than happy to set up a personalized demo for you here!